The IDEAS of Leadership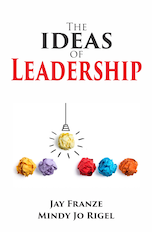 Jay Franze and Mindy Jo Rigel teach leadership through a framework they call IDEAS: Innovation, Development, Engagement, Action, and Sincerity. This framework provides guidance to become a leader focusing on leadership development in the modern-day.
"Drawing from their podcast conversations and infusing their own knowledge and experiences, Jay and Mindy Jo summarized leadership through a concept they call IDEAS. An acronym, IDEAS, stands for Innovation, Development, Engagement, Action, and Sincerity. The book not only addresses these topics but delves into the challenges modern-day leaders face when it comes to creativity, influence, mentorship, decision making, empathy, and more. There's even an entire chapter dedicated to social media. This book is packed with information, tips, and activities that will help you develop as a successful and influential leader."
~ Julie Golob, Wold Champion / Author / Veteran
Leadership
lessons from the field
This book will provide any manager with the guidance necessary to become a leader. Whether you are new to management or a seasoned professional, this book should never leave your side. The ultimate goal is to provide lessons from the field that will take you from manager to leader.
"It's rare that you come across a true leader like Jay. I have had the privilege of working with him for many years, and I trust his leadership completely. I am continuously impressed by his ability to stay calm under the most stressful of situations and provide the guidance necessary to successfully make it through. I have learned so much from him and his lessons. I truly believe that this book is a must for any manager looking to become a true leader."
~ Lisa Evans, State Street Bank
Mixing a…z
An engineer's guide
This book is a practical, comprehensive manual on the art of mixing. Everyone from the audio student to the veteran engineer can benefit from the topics explored, ranging from housekeeping tips, to monitoring, to the step-by-step walkthrough of an entire mix session. If you have been looking for advice to make your mixes come alive, or if you just want to compare techniques with a professional mix engineer, you will find "Mixing a…z" a worthy addition to your library.
"Jam packed with practical and creative techniques for young mix engineers. J Franze does a great job of presenting the fundamental building blocks of mixing in, "Mixing a…z." He covers all the tools in the mix engineer's arsenal, along with a step by step explanation of the process, while always balancing the craft with the art of mixing."
~ Charles Dye, Producer/Engineer
(Shakira, Jon Bon Jovi, Ricky Martin…)
Pro Tools a…z
An engineer's guide
This book is intended to be an easy-to-use, practical guide to all that Pro Tools has to offer. If you are a beginner, you should have absolutely no problem setting up your system and getting started. If you already use Pro Tools regularly, you should find the answers to questions you have always wanted to know. Either way, the ultimate goal is to give all Pro Tools users a reliable reference guide to any issues they may encounter.
"J has worked with me on many recording projects, and I trust his knowledge of Pro Tools completely. Whether you are a novice or skilled user, his book will enhance your efficiency and ability, as well as heighten your understanding of Pro Tools. I believe that this book will be an essential guide for every engineer to keep close at hand."
~ Bob Bullock, Producer/Engineer
(Shania Twain, George Strait, Travis Tritt…)
Save
Save
Save
Save
Save