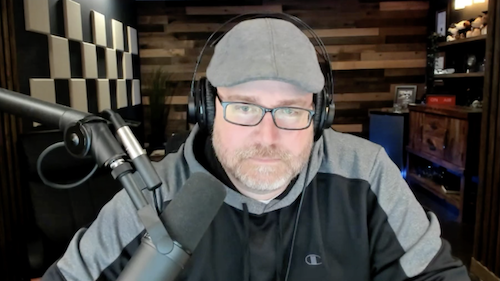 Jay Franze is the host of The Jay Franze Show, on this show Jay takes a deep dive into the entertainment industry to provide you with valuable insights and entertaining stories. Stories you won't find anywhere else.
Jay has engineered projects for a host of legendary artists, including Jerry Lee Lewis, Hank Williams, Jr., and Dolly Parton, and produced and engineered projects for indie artists such as Matty McRee, Tristin Burke, and Allison Piccioni. In addition, he has engineered shows for such greats as Phil Vasser, Keith Urban, and The Wilkinsons. He has also collaborated with top-notch producers like Bob Bullock, Matt McClure, and Chas Sandford and worked extensively in studios such as The Tracking Room, Oceanway, and Masterfonics. Several production companies have also benefited from his expertise, including Spin Red Productions, Pitt/Penn Productions, and Cristaldi Music. He has even engineered projects for many publishing companies like Real Life Music, Shadow Mountain Music, and Hanalei Music Group. His work has also been published by DSM Producers securing airtime on NBC, Comedy Central, and Saturday Night Live.
Jay earned his Recording Engineering and Music Production certification at The Recording Workshop in Ohio, obtained a certificate in Music Business from Boston's renowned Berklee College of Music, and attended the Pro Tools Training Center, where he received Avid's Pro Tools certification. Later, in Nashville, He also received a diploma and graduated with High Honors in Audio Technology at the SAE Institute of Technology. Additionally, he received a Business Degree from a Massachusetts State College, a credential of readiness from the Harvard Business School, and a Master's Degree in Business Leadership from The University of Queensland.
He has taught at some of the most prestigious audio schools in the world, including SAE Institute, International Academy of Design and Technology, and Full Sail University. Jay has also been a guest lecturer at such schools as CDIA Boston University, Belmont University, and The Hartt School at the University of Hartford. He has been invited to speak at industry events, including the Recording Artist Survival Camp – Tennessee State University, Boston Area Definitive Audio Student Summit – Art Institute/The New England Institute of Art, and Central Region Student Summit – Webster University.
Jay has been involved in The Recording Academy – Producers and Engineers Wing (as a voting member), The Society Of Professional Audio Recording Services, and the Audio Engineering Society. There, he served as the Vice-Chair of their Boston Chapter, 2008-2009. Before the position of Vice-Chair, he also sat on the board of their Nashville Chapter, 2005-2008. Not only has he volunteered his time to these societies, but he has also been enlisted to Beta Testing Avid's software Pro Tools before its release to the public.
Jay has also penned four books, two of which have received phenomenal marks throughout the audio engineering community. The first, entitled "Pro Tools A…Z," gives a comprehensive look into Avid's industry-standard software presented as a textbook in an easy-to-follow format. The second, "Mixing A…Z," demystifies critical mixing techniques and is an excellent companion to mix engineers at all levels and experiences. His latest book, "The IDEAS of Leadership," teaches leadership through a framework called IDEAS: Innovation, Development, Engagement, Action, and Sincerity. This framework provides guidance to becoming a leader focusing on leadership development in the modern day, and is an excellent follow-up to his previous book, "Leadership: lessons from the field."
Additionally, Jay has spent over a decade in the transportation and security industry, transporting such greats as Halestorm, Eric Church, and Iron Maiden and securing companies such as Facebook, Google, and Microsoft. Since working as the Vice President of Strategic Account Operations at G4S Secure Solutions, the largest security firm in the world, Jay's passion for leadership development continues as he currently leads large complex projects for the state of Kentucky.
Jay is an Advisory Council Member for Harvard Business Review, was an Advisory Board Member at Bank of America, and a 2020-2021 inductee of Marquis Who's Who in America. He also won the Supplier Excellence Award for outstanding customer service.
Jay is from Boston; however, he currently lives outside Cincinnati with his lovely wife, Jennifer, his three beautiful daughters, Bella, Lucy, and Valen, and their two dogs, Charlie and Zoe.
Education
Business
The University of Queensland, Master's Degree, Business Leadership (MLSI)
Harvard Business School, CORe, Business Leadership
University of Michigan, SC, Business Leadership
Arizona State University, MM, International Business Management
North Shore Community College, AS, Business Management
Engineering
SAE Institute, Diploma, Music Production and Engineering
The Recording Workshop, Certificate, Music Production and Engineering
Pro Tools Training Center, Certificate, Pro Tools
Berklee College of Music, Certificate, Music Business